What Our Patients Like Most About Our Pharmacy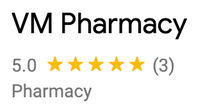 "Extremely happy that I found vm!!! This place is the best, hands down period. Only pharmacy that I have been to since I found it. The pharmacist, and entire staff have always been insanely nice and more than helpful every time I have been there. They really went the extra mile when it came to helping me with my recovery."

"I had a good experience with VM pharmacy. They are always polite and courteous. Even one time I forgot my debit card, they let me take my prescription and said I can call back and pay over the phone; which I did."

"I appreciate the good service, kind attention and excellent care they give to me and my patients. I like that they will deliver to people who cannot come in to pick up their medicines. Life would be wonderful if all pharmacies were as good as VM pharmacy is."